The Austrian Association for American Studies (AAAS) stands with the protest around the globe in demanding an end to racism and institutionalized violence against people of color. The horrific killing of George Floyd on 25 May 2020 – and every death before and after – compels us to speak out and take action against the mechanisms which have perpetuated racial violence.
As scholars and students of American studies, we have a responsibility to engage with the histories and legacies of racism. Not only are we called to reckon with systemic racism as part of our scholarly practices, we must also intensify our efforts in promoting anti-racist, anti-discriminatory pedagogies in our classrooms, in our curriculum planning, and in our public outreach.
Below are a list of scholarly-activist interventions and acts of solidarity with communities of color, in the United States and across the globe.
Silvia Schultermandl
AAAS President
---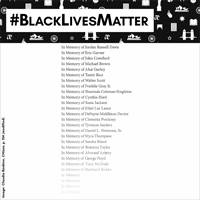 Facebook-Series, University of Salzburg
Over the summer of 2020, the Department of English and American Studies of the University of Salzburg recommends a number of writers, filmmakers, and intellectuals of color whose work speaks particularly well to the latest incidents of police brutality and racialized violence in North America. They are sharing these recommendations to further an understanding of structural racism, not only in its latest expressions or its most explicit forms, but in its longue durée.
The project "HostFilm" stems from the premise that visual culture and films in particular present difference in a direct way. Films shed light on the physicality of bodies, their transitions and movements though different places, borders and boundaries and how they become reassessed and redefined in the process. Thus, films provide exceptional material to assess the visibility/invisibility of the migrant, his or her in/audibility, as well as the techniques of surveillance that are part of the hostipitality that awaits the foreign Other.
In an article titled "One Landscape, Two Narratives," Joshua Parker (University of Salzburg) contemplates on the "Competition for Memorial Space and the Search for Symbiosis at Home and Abroad." His text was published in the Journal of Narrative Politics in 2016 (vol. 3, no. 1).